Several local runners took part in right at the top, but it was a woman from Øystre Slidre and a man from Eritrea who was best at the Fanaråken Up.
Published 08.12.2012 11:03.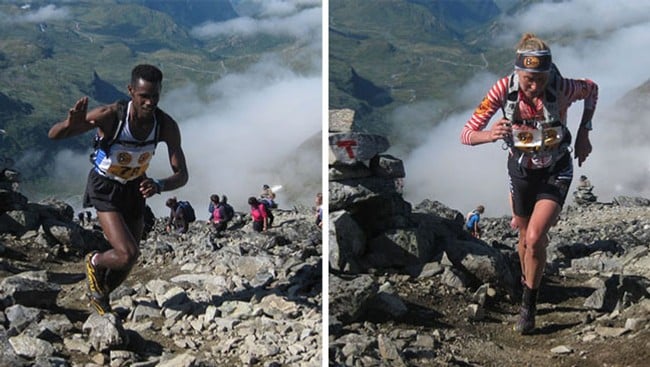 FIRST TO TOP: Tomas Bereket and Anita Håkenstad Evertsen water Fanaråken Up 2012.
Photo: Christian Vicarage (montage)
Uphill race Fanaråken Up celebrated the tenth anniversary this year and had vêrgudane with him on the team. The nine-kilometer course from Turtagrø and up to Fanaråkhytta was swimming in the sun from a cloudless sky.
- Never before has Fanaråken Up been held in flottare weather. The participants had a gorgeous view over 2000 meters altitude right down to the Sognefjord and the mainland of Europe's largest glacier, Jostedalsbreen Skagastølstindane peaks with the magnificent scenery, type initiative candlesticks for the race, Christian parsonage in a press release.
Also, profit was the issue of uphill race a success. Anita Håkenstad Evertsen from Øystre Slidre namely set a new course record for women. By the time she was first 01/08/26 to the top, 16 seconds before Angela Mudge from Scotland.
Among the gentlemen were Tomas Bereket from Larvik Turn / Eritrea who came first to the top. He failed to beat his own course record, but came into the goal just two minutes after the record with the time 59.56.
In total there were over 550 participants at this year's Fanaråken Up. As can be seen of the list was both men and women from fjord county also were quick leg up the mountain. Ole Martin Erdal from Forde IL was third best in the men's class, while Audhild Hestad from Gaular IL received a fourth place in the women's class.
1. Anita Håkenstad Evertsen, Øystre Slidre IL, 08/01/26
2. Angela Mudge, Scotland, 01/08/42
3. Maren Wangensteen, Øystre Slidre IL, 01/10/42
4. Audhild Hestad, Gaular IL, 1.14.28
5. Annie Iren Saetre, Ørsta IL, 1.18.55
6. Malene Haukøy, IL Høyang, 1.19.50
1. Tomas Bereket, Larvik Turn / Eritrea, 59.56
2. Orlando Edwards, England 01/01/48.
3. Ole Martin Erdal, Forde IL, 06/01/06
4. Eye Roger Pollen, Forde IL, 01/07/10
5. Magnor Rypdal, Isfjorden IL, 01/07/37
6. Tommy Haga. Sandnes, IL, 01/07/49

Software translation from Nerwegian